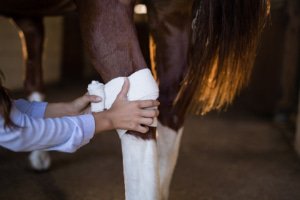 Products for optimal health of your horse
In our assortment you will find a wide selection of articles to help you maintain the health of your horse.
A good intestinal function is everything that determines the health of your horse. The digestive tract of a horse is very sensitive. Digestion must be kept going continuously with the help of sufficient fiber-rich food to prevent colic.
Colic is caused by a problem in the digestive tract, often the intestines, and causes pain in the abdominal region of your horse. It can have all kinds of causes, including eating spoiled food, a wrong food composition, poor chewing due to dental problems or taking up too much sand with the food.
MHS Equestrian sells various products that work directly with colic, gas accumulation in the intestines and blockages. They combat cramping in the stomach and intestinal tract and inhibit germs. At MHS Equestrian you will also find special diet food for horses that have too much sand in their intestines.
Prevention is better than cure
It goes without saying that prevention is better than cure. For that reason we advise you to support your horse in keeping its intestines in good condition. With a slow feeder for example. A slow feeder ensures that your horse does not eat too fast, too much.
You can also help the health of your horse by adding additives to food, such as the best quality linseed oil. In addition to digestion, linseed oil also keeps the coat and condition of your horse in optimum condition. Furthermore, administering extra vitamins helps keep your horse healthy.
A shiny and healthy coat
We have various products for the care of the skin and fur of your horse. From moisturizing lotions that cool the skin to sprays that calm the skin and help prevent inflammation.
If your horse has eczema, take care of the irritated areas with a nourishing balm that also supports the healing power of the skin. In addition, use an eczema rug to prevent your horse from becoming more bothered and to bite or sand the itchy spots on its skin.